Contact
Office:
I4-408
Phone:
619-388-2699
Hours:
M-Th: 8:00am - 6:00pm
Friday: 8:00am - 3:00pm

Mesa College
Scholarships
Mesa College


Scholarships

Our scholarship cycle is currently CLOSED. For updates and other scholarship news; such as our upcoming workshop dates and when applicaitons are being accepted, sign up below to receive email notifications.
---
2022 Scholarship Timeline
November 15, 2021 - Deadline to renew and update scholarship*
December 6, 2021 - Scholarships posted, students are able to apply*
January 10, 2022 - Review committee selection
February 17, 2022 - Student applications due
February 18, 2022 to March 11, 2022 - Review committees score applications
March 18, 2022 to April 5, 2022 - Students notified, invited to accept scholarships
April 12, 2022 - Final award notification to donors and reviewers
April 28, 2022 - Scholarship Awards Ceremony
May 2022; September 2022; March 2023 - Awards provided to students (depending on scholarship funding timeline set by the donor/scholarship lead)
* Only scholarships that are renewed and fully funded will be posted. These dates are projected and may change.
If you need assistance or have any additional questions, please contact the Student Affairs Office at 619-388-2699 or by email at mesascholarship@sdccd.edu
---
---
2021 Scholarship Presentation



Download
Scholarship Awards Virtual Ceremony Program 2021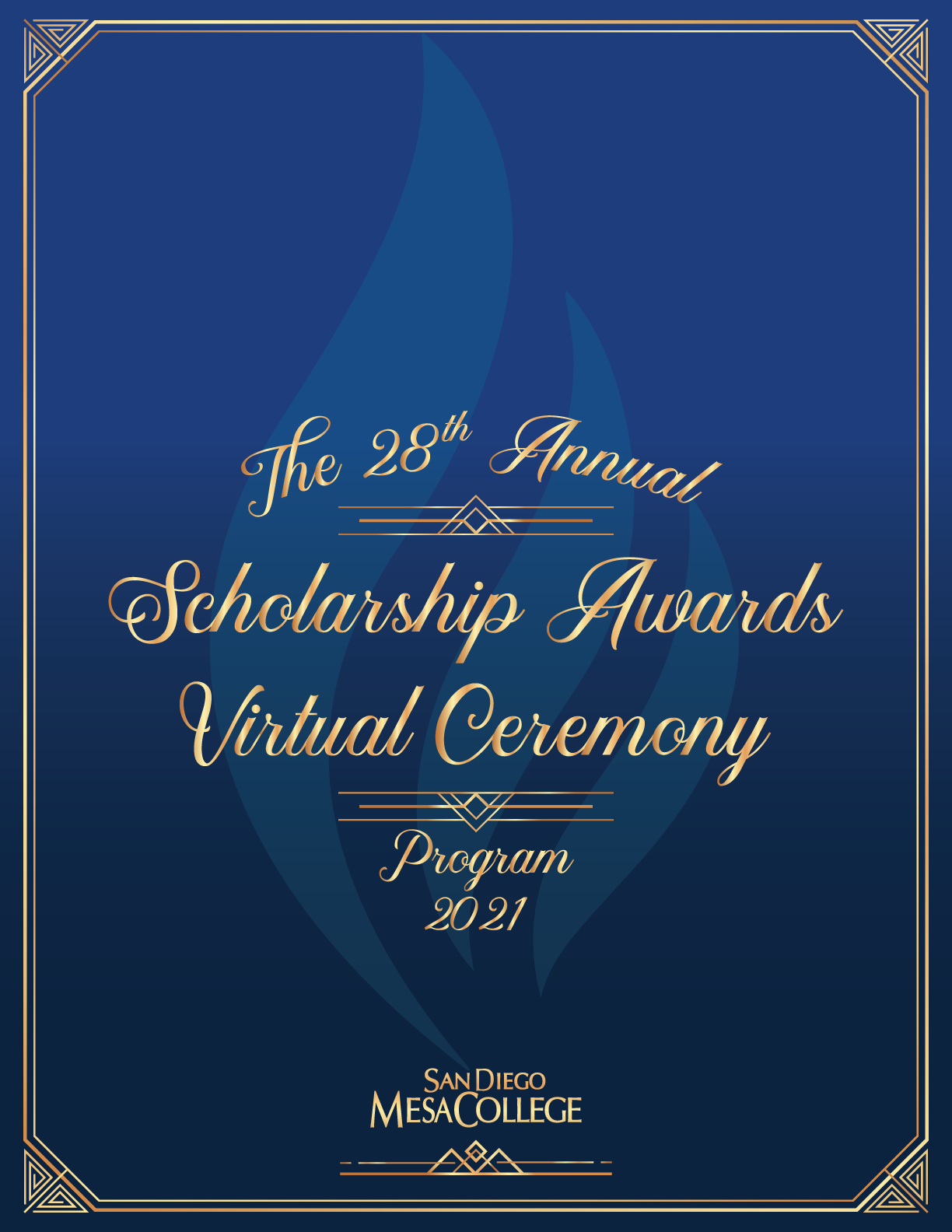 Scholarship Awards have been announced!
See below for the full list of student winners!

If you would like to be notified of the next scholarship cycle, please submit the interest form at the bottom of this page.

Alison Primoza Honors Scholarship
Richard Dollero
Allen Rogert Memorial Scholarship
Giorgia Moretti
Kappel Cole
Marcel Clark
Allied Health Single Parent Scholarship
Vicki Pena
Priscilla Nevarez
American Federation of Teachers Larry Schwartz Memorial Scholarship
Shania Leveille
Teresa Thomas
Diana Zepeda
Annette Bening Promise Scholarship
Rosela Mae Gallardo
Architecture Program Design Scholarship
Aidan Fitzpatrick
Art Department Scholarship
Lily Long
Asian Pacific Islander American Scholarship
Aaron Bautista
Nhu Vo
Associated Students "Basic Needs" Scholarship
Vicente Huang Yu
Margarita Bonaparte
Marquita Scott
Amanda Hamilton
Rawan Ghazouli
Sirous Hosseinifar
Associated Students Academic Achievement Scholarship
Zainab Faraj
Thanh Nghiep Trinh
Truc Nguyen
Rebecca Chen
Christian Yahir Gonzalez Ruiz
Associated Students Community Service Scholarship
Nhu Vo
Karen Moser
Melinda Hart
Minh Danh
Rosalind Bishop-Newman
Biology Department Scholarship
Isabel Coupland
Dianle Naguidebe
Board of Trustees Scholarship - Supported by the Scott A. and Elizabeth V. Christensen Foundation
Jose Garcia
Kendra Hamilton
Marquita Scott
Reena Rong
Braille Transcribers' Scholarship Award for Visually Impaired Students
Anica Baluta-Freitas
Rosalind Bishop-Newman
Rosela Mae Gallardo
Melinda Hart
Scott Marquita
Angela Siefner
Bright Mothers Scholarship
Yannira Rodriguez
Paizlee Davis
Margarita Bonaparte
Burdg Family Scholarship
Zainab Faraj
Karen Moser
Baraah Oriqat
Cal Coast Cares Foundation College Scholarship
Anica Baluta-Freitas
Alison Reinholtz
Sherry Sandstede Schneider
Angela Siefner
Hannah Wilson
Marcel Clark
Neda Ghassemigandomani
Emilio Lara
Cat Le
Tina Leinenweber
Ryan Martin
Marguerite Martinez
Sindy Navarro
CalWORKs Scholarship
Alla Semiliak
Cesar and Bette Gonzalez Chicana and Chicano Studies Department Memorial Scholarship
Myriam Ortiz
Chancellor's Scholarship
Natalia Trinh
Charles W. Patrick Memorial Scholarship
Karla Tirado
Nhu Vo
Chef Mark Blaauboer Memorial Scholarship
Merissa Sanchez
Majda Belaroui
Kalea Guajardo
Chemistry Department Scholarship
Jessica Moreno
Cher Fertig Memorial Art Scholarship
Derra Guajardo
Christine Balderas Student PTA Scholarship
Ahizza Romero
Lacy Crockett
College Police Supporting Veterans Scholarship
Sheri Leonard
Cynthia K. Wilson Memorial Scholarship
Minh Danh
D.S.P.S. Dream, Strive, Persevere & Succeed
Angela Siefner
Melinda Hart
Dental Assisting Program Scholarship
Kimberly Herrera
Devan Caddell Memorial Scholarship
Kaitlin Clapinski
Dietschman Scholarship
Sima Yaghoubi
Elham Shamloufard
Griselda Cardozo
Abigail Larsen
Kendra Hamilton
Ahizza Romero
Yvonne Silva
Johar Zuber
Dr. Kevin Branson LGBTQ Scholarship
Lilly Long
Robert Phavong
DSPS Scholarship
Aliana Shaine Soriano
E.F.K. Music Scholarship
Tina Leinenweber
Tara Yousefi
Emmanuel Jimenez Molina Memorial Aquatics Scholarship
Ryan Martin
English Department Scholarship
Damaris Velazquez
EOPS Program Scholarship
Amie Mansano
Arlett Espana Cigarrero
Paizlee Davis
Ricardo Dollero
Jessica Moreno
Monica Rodriguez Reyes
Fashion Club Fashion Design Scholarship
Valerie Arcos
Fashion Club Fashion Merchandising Scholarship
Qiman Zhuang
Fashion Program Scholarship
Rosa Shook
Francisco Z. Plazola Memorial Culinary Scholarship
Andrew Thomas
George and Evelyn Peterson Scholarship
Natalia Trinh
Harish Srinivasan
Alejandra Cantabrana
Elham Shamloufard
Gladys E. Carter Memorial Scholarship
Marcel Clark
Bronson Hardin
Gracia Molina de Pick Chicana and Chicano Studies Department Memorial Scholarship
Martha Berumen
Gustavo Romero Music Scholarship
Tina Leinenweber
Tara Yousefi
Hands' Family Pay It Forward Scholarship
Amber Leonard
Harvey T. Bergland Memorial Scholarship
Mikayla Aguilar
Jansen Family Scholarship
Jie Yu
Jeff Berry Languages Scholarship
Elena Sanchez
Caitlyn Coltran
Carlos Jaimes Noriega
Dennis-Michael Broussard
Jerry Schad Memorial Scholarship
Giorgia Moretti
Marie Yokers
John Conrad Ceramic Scholarship Trust
Kylan Erving
Joyce Skaryak Classified Senate Scholarship
Denise Arco
Lauren Dorst
Matthew Krause
Sahar King
Kathy Fennessey Kindness Scholarship
Megan Corieri
Kendra Jeffcoat Memorial Scholarship
Natalya Trinh
Ma Xiaoyi
KP Radiologic Technology Scholarship
Leslie Salazar
Patricia Kang
Sima Yaghoubi
Learning Resource Center Scholarship
Minh Danh
Emilio Lara
Legaspi-Roberts Scholarship for the Performing Arts
Gabriel Nelson
Linsky Family Scholarship
Croix Malig
Lorelei Shellist Runway Runaway Collection Fashion Design Scholarship
Valerie Arcos
Mark Trembley Mesa College Scholarship in Cultural Geography
Joelle Schumacher
Marshall Award for Academic Achievement and Leadership
Wencit Quino Hersh
Matt Koefler Memorial Scholarship
Ryan Martin

Maximilian Scholarship
Micayla Kimsey
Sheri Leonard
Mesa College Foundation Scholarship
Melinda Hart
Jose Ortega
Sima Yaghoubi
Tuan Pham
Alla Semiliak
Alonda Alverez
Anh Nguyen
Mesa Counseling Department Scholarship
Maya Del Rio
Mesa Journalism Scholarship
Kaitlin Clapinski
Michael Murphy Memorial Scholarship
An Doan
Yasmeen Zubaidi
Michaele DeTemple Memorial Scholarship
Laura Bailon
Nicola Barrett
Nancy Jo Brown Art Scholarship
Lily Long
Derra Guajardo
New Horizons Scholarship
Aaron Bautista
Nicki Carano Memorial Scholarship
Jacob Varon-Ramirez
Nutrition and Nutrition & Fitness Scholarship
Paige Sullivan
Carlos Noriega
Pay It Forward Personal Growth Donna Kieselbach Memorial Scholarship
Elena Sanchez
Peggy Gray Spanninga Transfer Scholarship
Ngoh Tamanji
Damaris Velazquez
Elizabeth Lou
Shania Leveille
Emilio Lara
Michelle Mar
Selena Luong
Joneil Yanga
Carlos Melendrez
Katherine Rinehart
Joelle Schumacher
Physical Sciences Department Scholarship
Giorgia Moretti
President's Award for Academic Excellence
Karla Tirado
Puente Scholarship
Jose Garcia
Diana Bermejo-Lazo
Radiologic Technology Scholarship
Kendra Hamilton
Abdullahi Mohamed
Richard & Eloise Johnston Health Services Scholarship
Anica Baluta-Freitas
Rose Verilli Memorial Scholarship
Amie Mansano
Ruth Kern Scholarship
Jose Ortega
Alla Semiliak
Karen Moser
San Diego County Hotel/Motel Scholarship
Merissa Sanchez
San Diego County Veterinary Medical Association
Priscilla Nevarez
SDCCD Management Association Scholarship
Joneil Yanga
Shellist Music Endowed Memorial Scholarship
Geoffrey McGinnis
Sidney W. Brossman Memorial Scholarship
Andrea Gallardo
Sin Fronteras Scholarship
Jaded Delgado
Ivan Perez Sanchez
Brandon Placensia
Yvonne Silva
STAR TRIO
Anne Anh Dinh
The Architecture Department Chairs' Scholarship
Mikayla Aguilar
The Dr. Judy Sundayo Leadership Scholarship
Princetta Readus
The Patrick R. Fierro Sr Engineering Scholarship
Ryan Albin
The Picky Eats Scholarship
Carlos Jaimes Noriega
Israa Shamseldin
Thomas and Frances Wong Scholarship
Donna Rowry
Thomas E. Dowd Scholarship
Jesus Rangel
Tina Recalde Student PTA Scholarship
Griselda Cardozo
Chinatip Utrapiromsuk
Tony & Lido Szeto Family Scholarship
Tamanji Ngoh
Zhang Xiner
Perez Enrique
Jesus Rangel
Toomath Scholarship
Rosela Gallardo
Rosalind Bishop-Newman
Jie Yu
Katherine Rinehart
Nathan Frank
University of Phoenix Scholarship
Karla Tirado
Michael Wang
Scott Anglim
Niyant Nanavati
Veterans of Mesa Scholarship
Christopher Fisher
Jesus Rangel
Whitney M. Young Memorial Scholarship
Yalda Qargha
Laura Ballon
William and Margaret Memorial Scholarship
Shiaslynn Thompson
William Cyran Memorial Scholarship
Shiaslynn Thompson
---