---
Canyon Day and Canyon Classroom 2021
Due to COVID-19 health and safety concerns, Canyon Day and Canyon Classroom will be provided this year as a self-guided activity.
Canyon Day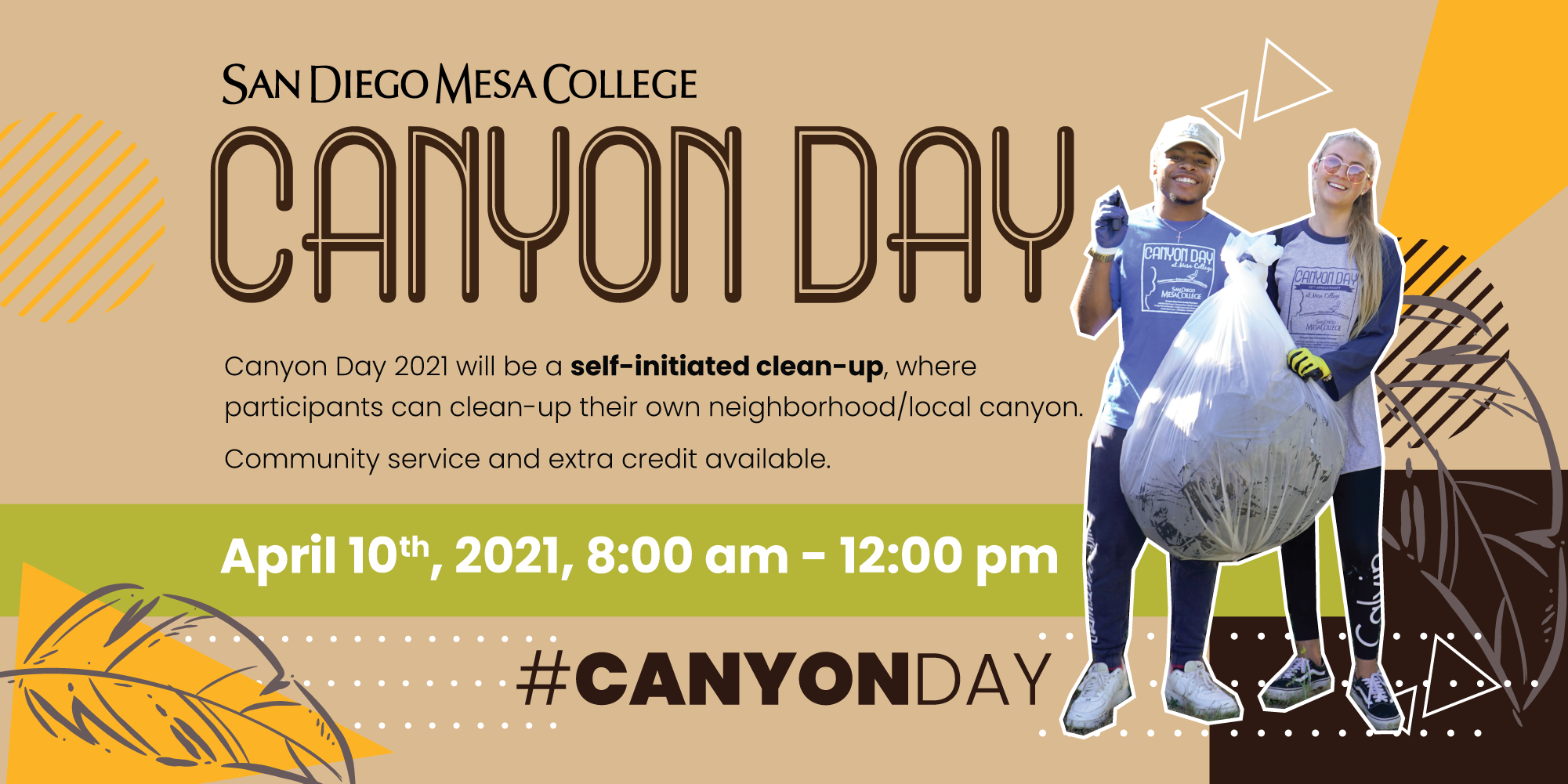 Since we cannot gather together to clean Tecolote Canyon this year, in the spirit of Canyon Day, participants will be cleaning their own local neighborhood or canyon to help keep San Diego clean and pollution free.
Date: Sat, April 10, 2021
Time: 9:00am-12:00pm
Location: Your neighborhood or local canyon (pending allowed guidelines - do not enter closed areas)
Before you clean up:
After you clean up:
All REGISTERED participants who complete both forms will be:
Eligible to earn 4 hours of community credit and/or extra credit if professors allow.
Entered into an Opportunity Drawing to win one of 20 Mesa College Prize Packs ($50 value)
Canyon Classroom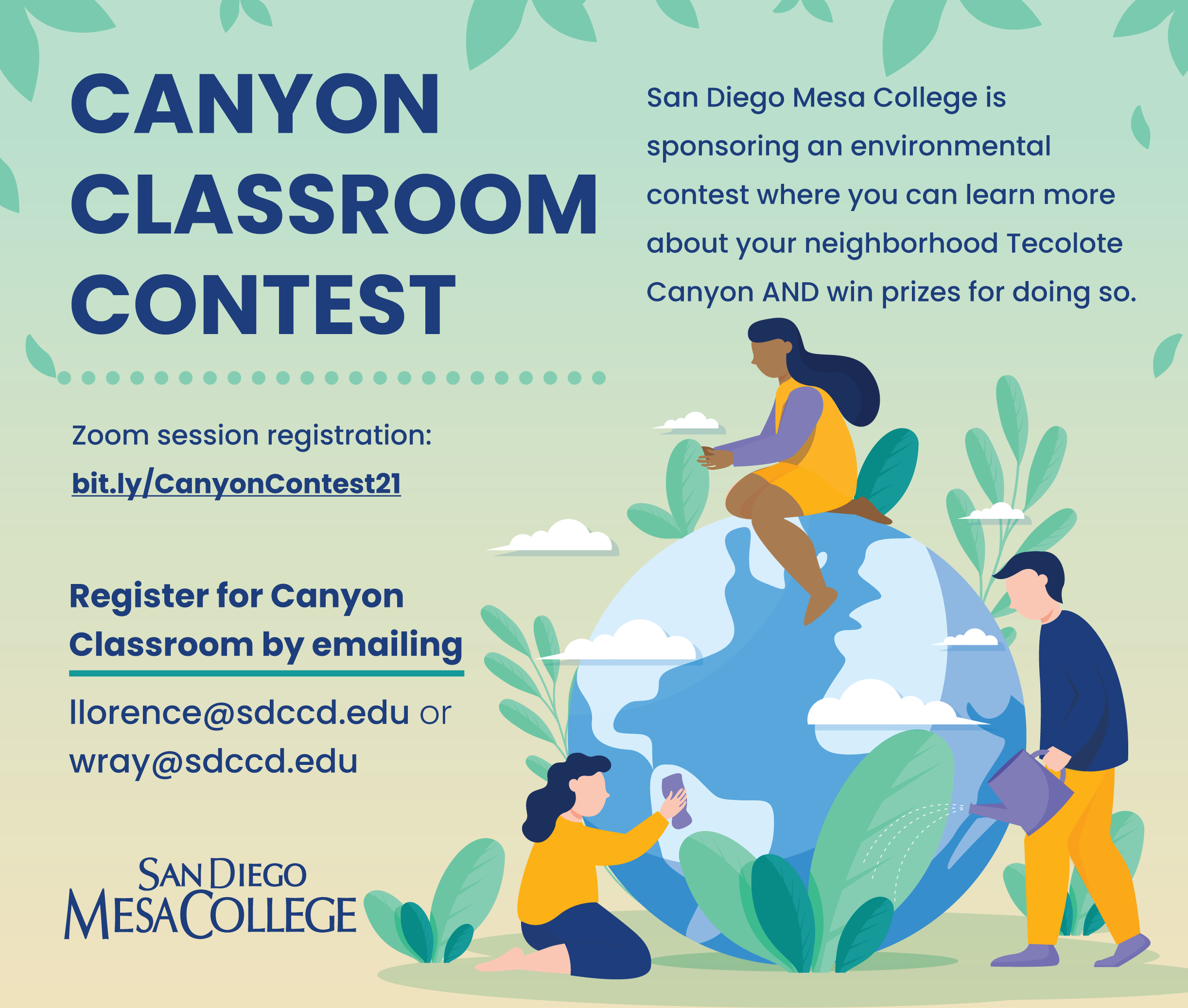 Canyon Classroom will be offered in a virtual format this year. Register to participate in multiple virtual activities at your own pace.
Just register by sending your name and email address to Mesa's Canyon contest coordinators. You'll be emailed access to the contest site where you'll participate in various virtual activities to learn more about your neighborhood Tecolote Canyon. When you complete the activities, you'll be eligible for prizes, such as a backpack and coloring set.
Canyon Classroom Celebration Winners Announcement
(You do not need to be present to win)
Date: April 21st, 2021
Time: 4:00 pm
Zoom registration link: bit.ly/CanyonContest21

Contacts: Waverly Ray (wray@sdccd.edu) and Laurie Lorence (llorence@sdccd.edu)
About
Canyon Day is an annual canyon clean-up hosted by Mesa College in conjunction with the City of San Diego and Park Rangers from the Tecolote Canyon Natural Park and Nature Center. Students, faculty, and staff from Mesa College, along with members of the broader community join together to clean a section of Tecolote Canyon and the nature trails adjacent to the college. We remove trash, debris and non-native plants, to improve the environment and quality of the trails. Canyon Day is recommended for 8 years and older. Everyone is welcome to participate and refreshments will be provided. Volunteers will also receive a FREE commemorative t-shirt (while supplies last). Students can earn up to 4 hours of community service hours for participating.
Canyon Classroom is a free family-friendly educational outreach event with interactive educational booths and activities, designed to inform elementary and middle school children about the wonderful environmental and recreational resources in Tecolote Canyon. A limited number of Canyon tours will also be conducted once the canyon is cleaned. Canyon Classroom is supported by students and staff in Mesa's teacher education program. Canyon Classroom is all-ages and family friendly. Young attendees will receive a free give-away item (while supplies last). Students can earn up to 4 hours of community service hours for participating.
Goal
In collaboration with representatives of the various communities surrounding Mesa College, create an opportunity for community collaboration focusing on outreach, education and awareness of conservation of the environment and preservation of Tecolote Canyon.
Community and College Partners
San Diego Mesa College appreciates all of our campus and community partners who help support Canyon Day each year either via cash donations, in-kind donations or volunteerism. Canyon Day at San Diego Mesa College was conceived of in 2007, and created in 2008 at the recommendation of then District 6 City Councilmember Donna Frye. We appreciate her vision, contributions and participation in this annual event.
Partners
San Diego Mesa College
City of San Diego Tecolote Canyon Natural Park and Nature Center
City of San Diego Park and Recreation
Nature Links
City of San Diego Tecolote Canyon Natural Park and Nature Center
Canyon Day Committee
Canyon Day Co-Chairs: Jennifer Nichols Kearns, Director of Communications, and Lorenze Legaspi, V.P. of Administrative Services
City of San Diego Park Rangers: Steven Smith, Sr. Park Ranger, City of San Diego
Canyon Classroom Co-chairs: Prof. Laurie Lorence, Teacher Education Program, and Prof. Waverly Ray, Geography
Members: Waverly Ray, Laurie Lorence, Leticia Lopez, Jacqueline Collins, Ailene Crakes, Agustin Rivera, Ryan Shumaker, Michael Fitzgerald, Gilda Maldonado, Steven Smith, Ramiro Hernandez, Jennifer Park, Karla Trutna, Vanndaro Chhum, Shawn Fawcett, Dean Leavitt, Katlin Choi, Anabel Pulido and Hai Duong.
Honorary Members: Pamela Luster, President, San Diego Mesa College, San Diego Community College District, Chris Manis, Vice Chancellor, Facilities.
---
Contact Information
Jennifer Nichols Kearns
Chair and Media Contact
jnkearns@sdccd.edu
---
Partnership and/or Business Sponsorship Opportunities
Contacts:
Jennifer Nichols Kearns
Director of Communications
Canyon Day Chair and Media Contact
jnkearns@sdccd.edu
Krista Stellmacher
Director of Resource Development
San Diego Mesa College
kstellmacher@sdccd.edu